Indian Laminate Manufacturers Association
Indian Laminate Manufacturers Association organized their 6th International conference on laminates & allied industry on 5-6 March, 2018. The conference was graced by who's who of the laminate, design & surface industry.
Surfaces Reporter Magazine as Knowledge partner of the conference, organized a panel discussion on "Decoding Surface Design, Trends and Innovations 2018", moderated by Vertica Dvivedi, Editor-in-Chief, Surfaces Reporter who shared views and ideas about trends that will dominate in 2018. The stage was shared by eminent architects, Interior designers and design consultantslike Ar. Prem Nath, Ar. Swanzal Kak Kapoor, ID Payal Kapoor, Ar. Gaurav Kharkar and Paul Sandip respectively.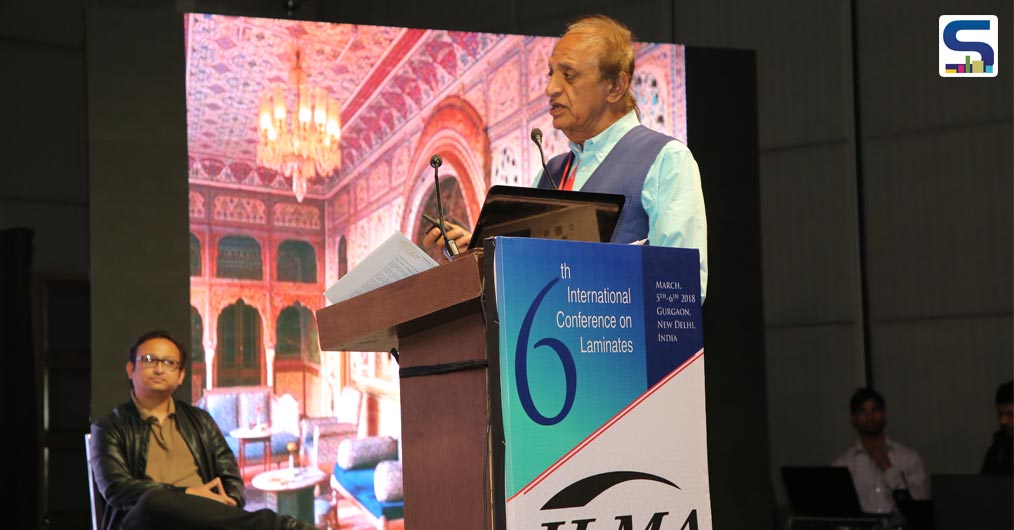 Ar. Premnath, the iconic architect said, "Soon building exterior walls shall have laminated panels with designer solar films producing clean power for inhabitants".
Ar. Premnath founder of Prem Nath and Associates, an architectural firm based in Mumbai has been felicitated by many awards such as "Most Promising Brand" in Architecture and Real Estate at World Brand Summit, Dubai, "Life Time Achievement Award", "India's Top Ten Architect" award and "HUDCO Design Award for Green Architecture for HMEL Township and many more. He has many 'first' feathers added to his hat including the architect behind First revolving restaurant at Ambassador Hotel, Mumbai, Golden Palm Resorts, Bangalore and First Green rated Township, HMEL Bhatinda, Punjab to name few.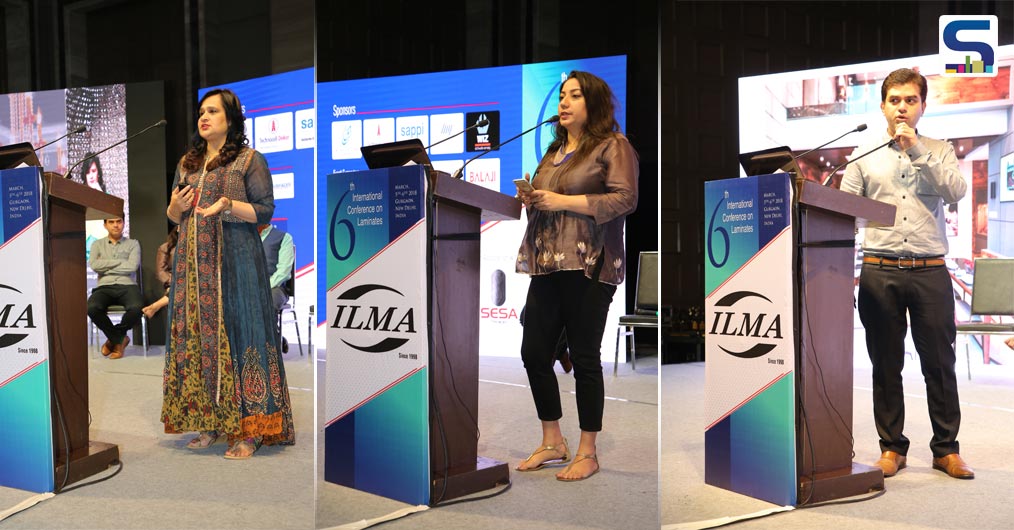 Discussing on the laminate trends of 2018, Interior Designer Payal Kapoor said, "The color palettes this year are rose ash and Neil greens. Lilac remains all time favourite too".
Payal Kapoor is the founder of Visions, New Delhi. Quoted as "Destiny's child" by a leading national daily, Payal Kapoor is among the first interior designers of India to be included in Baron's Who's Who of the world for demonstrating outstanding achievements.
She congratulated the Surfaces Reporter Magazine for organizing this panel discussion. "Kudos to the surfaces team yet again for bringing professionals close to the laminate industry and organising this discussion on a global platform. I'm sure this will help both the laminate industry and professionals to bridge the gaps and be more in sync with understanding trends and ways professionals would like to see the product evolve keeping the international market in mind!"
Ar. Swanzal Kak Kapoor stressed upon sustainability and quality.
She is the partner of SAKA, an Architectural and design Studio that values thoughtfulness and uniqueness beyond everything. She is also the Co-Founder of "Im Gurgaon", a citizen initiative for making a better Gurgaon.
Design & Innovation consultant Paul Sandip said, "Nostalgia" and "3rd Dimension" are two major trends coming up in Surface Design. Both of them have a common connecting link, which is the emotional connect. While "Nostalgia" is being addressed through hand-drawn illustration of elements from the bygone era on the other hand "3rd Dimension" is achieved by layering of digital artworks with micro-texture, depth of field and drop shadow effect to create visual illusion which takes one into the future.
Paul Sandip also said that Surface Reporter magazine has been playing a pivotal role in bringing together the manufacturing industry and the world of Interior Decor/Architecture. By involving an Industrial Designer in the interactive panel discussion, Surface Reporter has been able to form a collaborative platform aiming at identifying the consumer needs from design experts/ architects and converting those into insightful products.
Founder of Paul Studio, Paul is known for being the first Indian to win 2 red dot awards and is also a motivational TEDx speaker.
Ar. Gaurav Kharkar showcased some of the projects done by his firm Gaurav Kharkar & Associates. Gaurav is known for doing a lot of good work with decorative veneer & laminates. His style is interesting because of the way surfaces are used along with other materials.
Gaurav and his firm are compassionate about Contemporary Aesthetics, Functionality and Sensuality of using Quality Materials.
A closing speech by Vertica Dvivedi gave an insight of what is going to rule in Surfaces this year, stressing on the changing lifestyles and impacts on design. Ar. Premnath said that the industry should take help of Surfaces Reporter to connect industry and professional designers to chalk out future trends of interiors and architecture. Mr. Vikas Gupta, President, ILMA, summarized the discussion to bring out the take-aways. The panel discussion received an over-whelming response from the audience, which also led to the idea of joint collaboration between architects, manufacturers, and designers.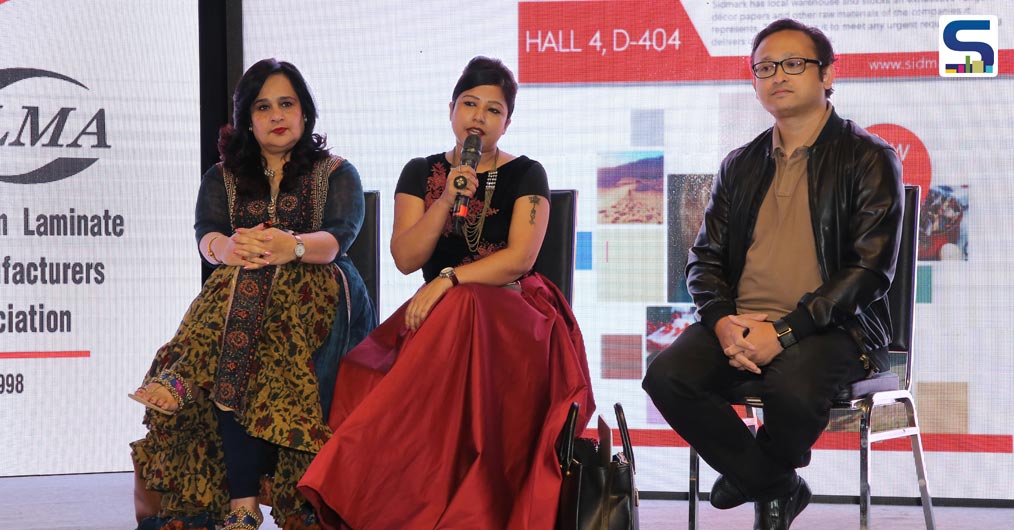 About Surfaces Reporter Magazine
Surfaces Reporter is the only 'Interior-Architecture' magazine in India, which focuses on providing Monthly Materials + Products update to facilitate Material knowledge and to help in sourcing latest products. The magazine does in-depth stories on various subjects encompassing architecture, material, design, surfaces, kitchen, bath &sanitaryware, interior, real estate, sustainability etc., which are revered by the industry. Recently, as knowledge partner of the very successful event,WADe Asia, a platform to felicitate women architects, artists and designers of India, Surfaces Reporter has immensely contributed in valuable content. The global benchmarks in the Material Research and Innovation are fairly high compared toIndia and there's evidently a big vacuum to fill in, that's exactly where, Surfaces Reporter catalytically contributes and has noticeably positioned itself as the most relevant, informative, elaborate, and highly researched journal in the products and materials of interior designing and architecture. To facilitate regular interactions between design community and the product makers, Surfaces Reporter organizes all India mini event talk series called "The Talk of Town". More at www.surfacesreporter.com
About ILMA
Indian Laminate Manufacturers Association (ILMA) is a member based not for profit organization of more than 135 members. These members are manufacturers of decorative and compact laminates or high pressure laminates and pre-lam (short cycle laminates)/ particle boards/ medium density fibre boards (MDF). It is a long term venture for the benefit of its members from all over India and is the only registered association of the laminate industry.
Vikas Aggarwal, President (ILMA) said, "this conference will her help us in our main aim of getting the manufacturers of laminate sheets more and more united through a common platform".
ILMA aims to:
a) Promote modern technologies, equipments, materials and modern tools for the development of laminates industry.
b) Reinforcement of direct global business contacts between international and domestic stake holders of laminate industry of the world.
c) Creating awareness towards the advance developments in the technology sector for bridging gap with international market players.
More at www.ilma.org.in