A Special gathering of the Architects & Designers from the city with design conversations, informal interactions, and networking.
Keynote Speaker, Dr Niranjan Hiranandani shared a bird's eye view of the Real Estate industry 2018-19.
Ar Prem Nath shared his insights on Future Architecture Trends of Mumbai.
Vertica Dvivedi unveiled latest Surfaces Reporter with a preview of the Cover story on 21 inspiring quotes from Ar BV Doshi's 'Paths Uncharted'.
Exclusive Panel discussion on Commercial, Retail & Hospitality Future Trends comprising eminent panelists such as Ar Prashant Sutaria, Ar Lalita Tharani, Ar Santha Mattoo, Ar Kshitij Limaye, Ar Bhavya Kenkare, ID Tejal Mathur and moderated by Ar Shilpa Jain Balvally.
Mini Talks and more...
April 7, 2018, Rodas Hotel: The First footprint of Nationwide Talk series 'THE TALK OF TOWN' by Surfaces Reporter was in Mumbai with a power-packed hall, engaging discussions, and full of interactions. Elaborate articulation of the talks & discussions will be available in print edition of Surfaces Reporter May 2018.
The Morning session started with the ceremonial lamp lighting by the eminent Ar Prem Nath, Ar Prashant Sutaria and Vertica Dvivedi, followed by launching of Surfaces Reporter April 2018 issue. Vertica shared a sneak peak at the Cover Story – 21 Inspiring Quotes from Dr B V Doshi's autobiography 'Paths Uncharted.'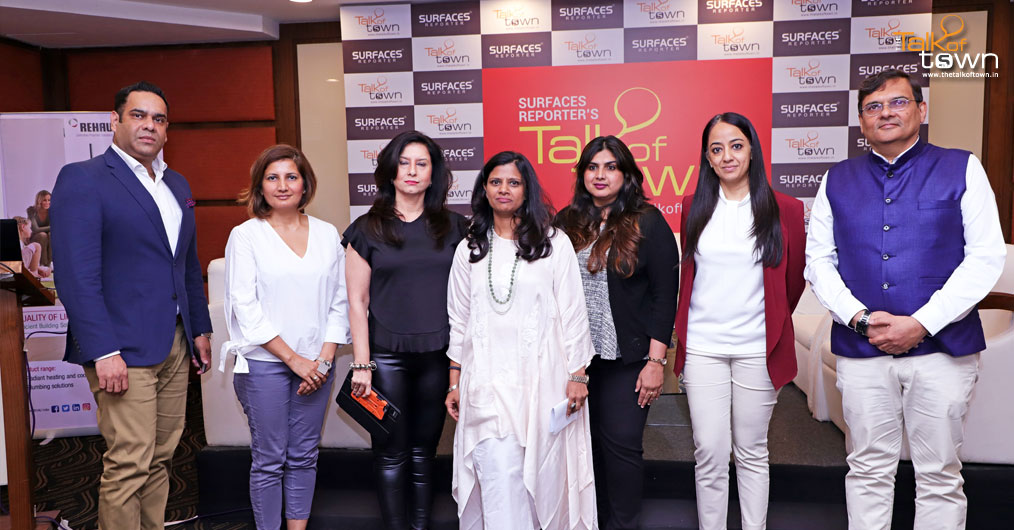 Ar Neilesh Kenkare, Co-Founder, Arch-Aid, & Ritu Goregaonkar, Design Director, GA Design shared their insights into Material, Textures, and Finishes & Colours, showcasing some of their recent projects. Ar Kenkare's informal interaction with the audience was liked by all.
A fantastic panel of architects and designers such as Ar Lalita Tharani, Collaborative Architects, Ar Santha Mattoo, Planet3 Studios, Ar Kshitij Limaye, Sankalpan, Ar Prashant Sutaria, Prashant Sutharia Architects & Planners, Interior Designer Tejal Mathur, Tejal Mathur Design, Ar Bhavya Kenkare, Arch-Aid, discussed and presented their views on the present state and the future trends pertaining to Commercial, Retail & Hospitality design. The session was ably chaired and moderated by Ar Shilpa Jain Balvally from Studio Osmosis. The discussion was rich in content, crisp & informative that gave the audience a fine insight into the future of these segments.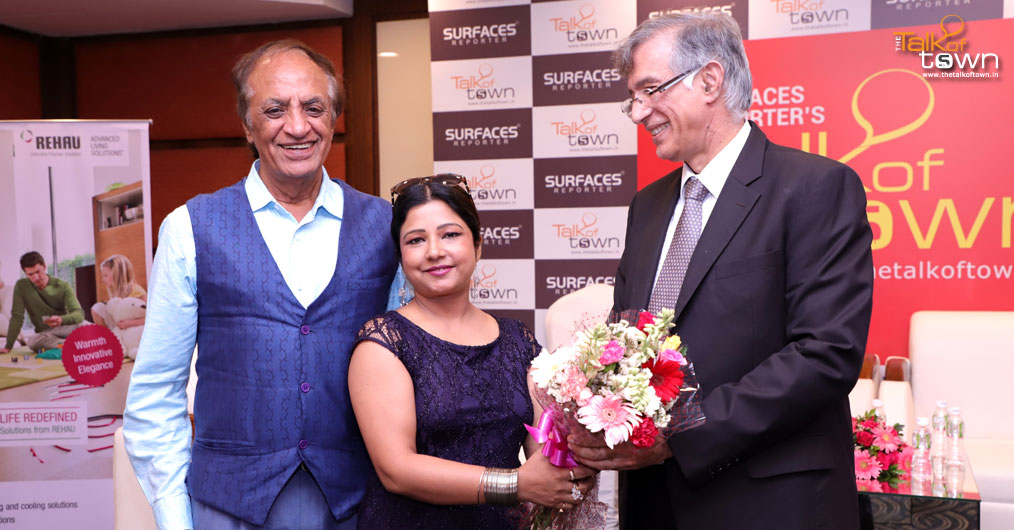 Talking about the Future Trends in Architecture with special emphasis on Mumbai city, Ar Prem Nath shared his vision of how old Mumbai colonies and buildings can be reconstructed into designer, beautiful and much better version than the old one. He also further emphasized on the role of architects as both an artist and as well as an Engineer. "We must merge knowledge of design and construction and use the available resources in labour, techniques and resources to produce an artistic and well-designed work," he said. His talk was appreciated by Dr. Hiranandani and the audience.
Dr. Niranjan Hiranandani, MD, Hiranandani Group had given the keynote address on "Overview of Real Estate in 2018-19". Dr Hiranandani shared, "We saw four Tsunamis last year in the form of Demonetization, RERA, GST and the Insolvency and Liquidation Act. All these four things have indeed troubled the industry." He shared major points with data & facts why he is optimistic about the future and some sincere advice for the architects and designers and ended with the information about upcoming projects of Hiranandani Group. The audience had a rich interactive session with Dr. Niranjan Hiranandani and was hungry for more.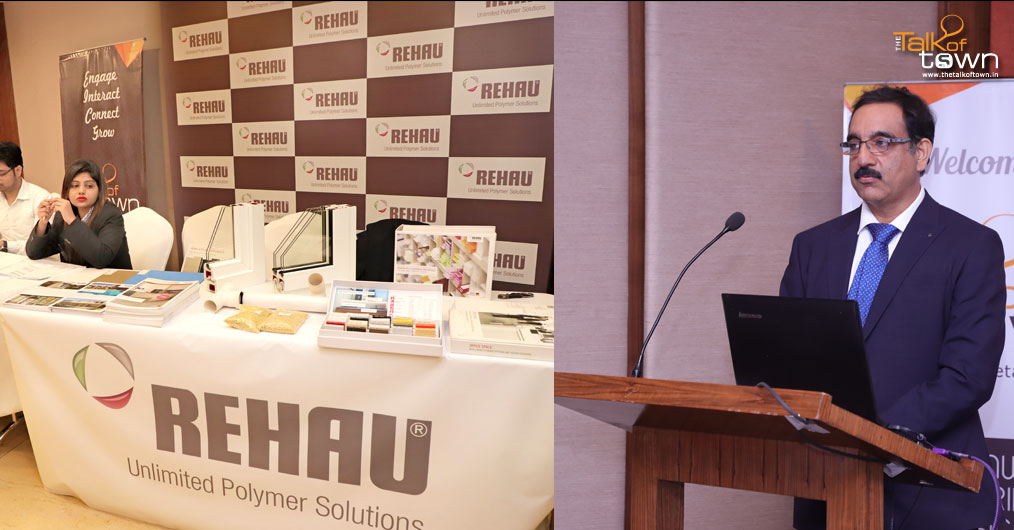 Sanjay Gautam Director Sales Industrial Solution REHAU, partner of Surfaces Reporter's The Talk of Town Mumbai gives the presentation on the " The Advance Living Solutions". According to Mr.Gautam " Talk of town is a great platform organized by surfaces to interact and engage with leading architects and designers of the interior industry ".
Another interesting feature of the conference was the series of mini-talks & presentations by a number of architects and designers talking about an idea which must be heard – with powerful, crisp and to the point messages. The speakers included Ar (Prof) Suvarna Lele, Designer Tasneem Merchant, Ar Sanyogeeta Sule, Ar Prashant Chauhan, ID Kanika Bawa, Ar Shilpa Jain Balvally, Ar Kunal Pakhar, Ar Krishna followed by a closing note on 'The Power of brevity' by Vertica Dvivedi. With a round of applause for all the speakers, #TheTalkofTown #Mumbai ended on a celebratory note.
About The Talk of Town
Surfaces Reporter's The Talk of Town is a neatly designed conference aimed to connect, engage and expand the circle of architects, artists, and designers in order to facilitate learning, sharing and networking among the industry's who's who and the aspiring ones.
The Talk of Town series is the brainchild of #SurfacesReporter, which is today a synonym for thought-provoking content on designs, products, and projects in the industry. Deeply connected within and around the industry, the magazine possesses humongous intellectual wealth and a delighted clientele to serve.
It is encouraging and immensely satisfying to be able to identify and connect with the community of art maestros, budding talents, architecture geniuses, design prodigies, and many more creatively brilliant personalities in their respective hemispheres. The Talk of Town is a platform for you if you operate in the realm of these hemispheres.
For sponsorship, speaking opportunities, participation, and other engaging opportunities, please toss a line to madhu@surfaces.in. Upcoming events will be held at- Ahmedabad, Delhi NCR, Hyderabad, Kochi-Calicut, Bangalore and more, though not in the same order.
Please click here to view all the images of 'THE TALK OF TOWN' by Surfaces Reporter was in Mumbai. Feel free to comment and like the images. Looking forward to your response.